Kurt Bauerheim, weltweit in der R/C Kunstflugszene durch seinen dritten Platz bei der FAI R/C Kunstflugweltmeisterschaft in Korsika 1967 und sein damaliges Wettbewerbsmodell Kompromiss:
Hier ein kleiner Bericht seines Sohnes Wolfgang Bauerheim:
Ich habe den Werdegang und die Entwicklung meines Vaters nicht nur "nebenher" beobachten können, sondern war über viele Jahre auch als "Co-Pilot"-und "Ansager" des Programms –d.h. der einzelnen in Folge zu demonstrierenden Flugfiguren bei Wettbewerben –zum Kampfgericht- neben meinem Vater gestanden und war bei vielen Wettbewerben "hautnah" dabei.
In this respect I also had the honor to experience not only my father, but also many of his competitors at that time (From Fritz Bosch, Walter Schmitz (who galt a little bit as a student of my father-the two got along well) Käseberg, Gast, Blauhorn, Metternhausen, Galinsky, Neckar, but also Giezendanner to….etc. again and again in competition and to be able to judge the flying performance, strengths and weaknesses.
Interestingly enough, through my sports studies I can now very well assess why my father was able to fly certain figures particularly well and clearly better than the competition in terms of coordination.
By the way, I have never seen anyone (except my father) who managed to fly his model inverted over the concrete runway in the style of a limbo dancer, so low that you could hear the tail skimming on the concrete…also his knife-edge flight (the V-shape of the wing at that time) was impressive.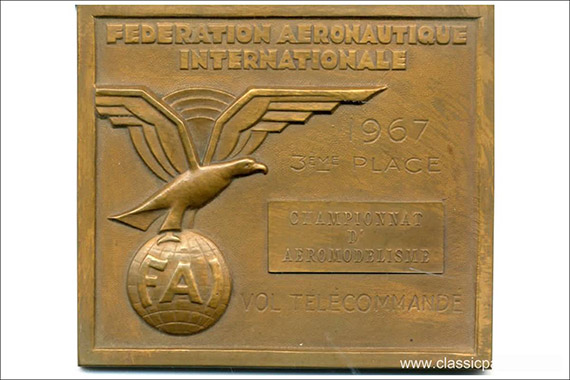 Vielleicht ist für Sie auch interessant zu wissen, dass der RC1-Modellflugbereich bereits im Jahr 1965/66 durchaus "professionell" betrieben wurde.
Fritz Bosch, for example, was an employee of Simprop Harsewinkel (agricultural machinery Claas) and as a figurehead definitely provided with sufficient time for training…not only in the evening and on weekends…
Also, a "competition set" of aircraft for the season may well have consisted of 5-6 aircraft (with different weights and aileron configurations, etc.).
Corsica was e.g. the big problem that my father had only wings with flaps with him and one (what one would never do today) without knowing the local conditions, i.e. having been there once before, went to the start.
In fact, due to the wind conditions there, the use of flaps had caused a big problem because the flight behavior/control response was very aggressive.
That is, it was very difficult to fly the aircraft cleanly under the wind conditions there -location of the airfield-wind from the sea. At least it would have been important to know what to expect.
You may think that of course a son sees his father as the "greatest expert", but I assure you that I have seen and studied many, many over the years and can certainly allow myself an objective judgment.
Kurt Bauerheim was really a very, very big deal, someone who could really do something in this business.
Thomas Ott`s Kompromiss, seen at the Retrodays in Pfäffikon / Switzerland
To let his potential lie fallow at the age of 40, after having made it so far in just a few years, is a mystery not only to me to this day.
But my father was really of the opinion that at the age of 40 you are also too old for this sport (in model flying)……this is not a joke, he really saw it that way.
By the way, my father was anything but a show-off.
the old motor sportsman Manfred von Brauchitsch once said about Rudolf Caracciola the former Mercedes superstar: He was a sober, matter-of-fact, cold, ice-cold rational driver.
This was exactly what my father -who in his way was very similar to Caracciola- was like. He was sober, objective, with a lot of sense but also very self-critical, certainly never satisfied with himself.
Always striving to make things even better.
Sincerely
Zurich, 2021 Wolfgang Bauerheim
Specifications:
Wingspan: 1,78 Meter / 70″
Length: 1,34 Meter /  53″
Weightt: about 3,8 kg / 8.4 lbs
Engine: 10cc / 61 RC
Radio: 4-6 Channel