Aerobatic R/C Airplane World Championships BERN, 8.-13.Sept. 1975
THE World Radio Control Championships for aerobatic model aircraft came home for the ninth successive competition for the King of the Belgians trophy at Bern, Switzer-land, September 8th-13th.

For it was in Switzerland, at Dubendorf in 1960, that the first ever Championships took place. Just 20 competitors, from eight nations contested that first event— this year there were 76 competitors from 26 States.
Who won? Wolfgang Matt from one of the world's tiniest states, Liechtenstein, is the new World Champion — a well deserved win after coming so near on two previous occasions. Hanno Prettner from Austria was the runner up and Dave Brown of U.S.A. placed 3rd, to edge out last time's Champion, Tsugutaka Yoshioka from Japan.
The Americans took the team prize and there must be something about the air in Liechtenstein, whose three man team took 2nd in the team order.
Bern's Belpmoos airfield has a single tar-mac runway and sits in a narrow valley with high hill-sides which produce a highly scenic effect bettered only by the view of the distant alps at one end of the valley. At many .times during the week, such famous peaks as the Eiger and the Jungfrau were clearly visible in snow-covered splendour which enticed many to slip away from the competition for a few hours.
Practice days Monday and Tuesday proved the presence of very severe interference on the 27 MHz waveband, caused by, among other sources, Hospital Diatherme units, R.F. welding equipment, taxi cabs and even digital radio control equipment. Yet competitors were expected to fly, even though some 27 MHz `spots' were virtually solid. A particularly bad case was Dekker of Holland who found out the hard way by straining his model through the crash barrier on take-off, nearly killing a spectator in the process, something which should never have happened if an efficient monitoring and warning system were i n Operation.
A more spectacular victim of Tuesday's practice session was Bruno Giezendanner of the host nation, who came off worst in a frequency tangle with one of the Norwegians on the opposite flight line, and Harald Neckar from West Germany, who did so well at the previous Championship at Gorizia in Italy experienced a wing failure in practice, Tuesday midday.
Our own team of Terry Cooper, Mike Bone and Keith Maundrel, under team manager Geoff Franklin were only slightly less effected.
Neither Cooper nor Maundrel managed an interference-free flight during the practice rounds, terminating prematurely to keep models in one piece, while Mike Bone never did manage to get his model off the ground during official practice sessions, due to solid interference on 27.045. All this gave rise to much frequency swapping and jokes involving dreams about St. Bernard dogs arriving loaded down not with barrels of Brandy, but with crystals for alternative, unaffected frequencies!
Joking apart though, and despite interference, there were some impressive per-formers during the practice rounds and it became evident that in some quarters there has been some real improvement. Bertolozzi from Italy for instance made a few people stand and watch during practice and Kjeelgren from Sweden too was pretty good, while the brand new team from U.S.A., Brown, Miller and Radcliff — all new boys, performed well, Brown and Radcliff with extremely fast models.



The Video (Bernt v.Boetticher)

<
Tuesday's practice round was punctuated with an opening ceremony during which a full size Akrostar aerobatic aircraft was flown through the full F.A.I. R/C model aerobatic schedule and then continued with a convincing demonstration that anything we can do they can do better, involving an impressive free-style acrobatic schedule. So next time you hear someone sounding off about how our models can do more than the full size it`s a load of bunk!
When Round one opened Yoshioka from Japan. The reigning world champion , competing this time as an individual rather than as a member of the three man Japanese team (a right of the retiring champion) was an early customer and a target for close scrutiny, followed shortly afterwards by Mark Radcliff of U.S.A., whose swept wing O.S.60 FSR powered Phoenix 6 really carved the air at high speed.
Okumura from Japan took a zero after overrunning his start-up time and his team-mate Naruke was one of many throughout the competition who performed well but failed to position their manoeuvres centrally on the judges' line, losing valuable points needlessly.
Jeff Tracey (Big Trace) from Australia gave us all a lesson on how to drown the noise of your engine when calling manoeuvres, and then it was time to watch U.S.A.'s youngest team member, 17-year-old Rhett Miller, whose Compensator design went through the schedule very nicely indeed, but with not quite absolute clinical precision, particularly in the hesitation rolls — although maybe after the build-up given him in the U.S. model magazines, we were expecting miracles. (lt would be nice to fly the schedule just half as well). Bruce Turner from New Zealand, fielding a team for the first time, hardly looked as though he had been flying R/C only 18 months.
Late in the afternoon we watched Brown of U.S.A. put in a really impressive performance, clinically smooth, with nicely imposed out-side loops and an arrow-like eight point roll, the whole performance spoiled only by the Top Hat and Spin. Brown's Phoenix 6, like Radcliff's, O.S.60 FSR powered, was undoubtedly the fastest on the field.
So ended the `sorting-out' round during which West Germany's Harald Neckar experienced under-carriage failure on landing. Hanno Prettner and Wolfgang Matt were in the commanding positions with Prettner just ahead and Yoshioka from Japan held third place ahead of three very dose formation Americans Brown, Miller and Radcliff in 5th, 6th and 7th places.
Our own top man at this stage was Keith Maundrel, having just topped the psychological 4,000 point barrier to hold 14th place, while Terry Cooper was down at 21st spot and Mike Bone was left with a lot to do down at 65th place after a premature motor cut.
Round Two on Thursday dawned dark, overcast with intermittent rain and rumbles of thunder amid the distant hills and mountain peaks. Yet during the morning, flying conditions were ideal, with zero wind.
Terry Cooper put in a good flight with some very nice manoeuvres, but missed the landing circle completely in a rate against the stop watch which turned out to be a mistake anyway.

Gunter Hoppe from West Germany put in a smart and precise flight with fine positioning and in a style which seemed to strike the ideal balance between the 'all-over-the-sky' full bore merchants and the `coast-it-round-at-low-throttle' style.
Hoppe's technique, keeping the model within a fairly tight piece of airspace, yet using all the power of his big Webra Speed 60, resulted in an extremely attractive overall presentation notable for its sheer economy of movement.
Steady rain turned to downpour soon after recommencement of flying following the mid-day break. Rhett Miller of U.S.A. was caught in mid-flight and had to abort as all on the flight line at the time took a drenching.
Flying commenced again after a two hour delay when we watched the Swede Kjellgren, who flew his Mach 1 in fine style. Yet, if the rain had at least eased, it still persisted, with gusty crosswinds, the worst of which, during a short period, was endured by our own Mike Bone and with a motor going sick part way through, it's no wonder he was nowhere near his best.
A little later though, Hanno Prettner handled the rough air superbly, his new Curare design, an updated Super Sicroly with inverted Y dihedral tail like a Bob Cat racer and increased fin area, really tore up the air using a Webra Speed 60 matched• to a Webra tuned pipe muffler.
Matt, in the air almost immediately after Prettner, was equally impressive. The new Atlas design, somewhat bigger than Super Star, has a thicker wing, flies somewhat slower and uses a little less airspace than before. These two young men really are in a class of their own.
Harald Neckar, still down on his luck, experienced severe interference, and then, as the day's flying came to a dose, Chris Sweatman came as dose as we've seen to actually flying an aerobatic schedule in the dark, as the low cloud rolling in, obscured the fast fading daylight.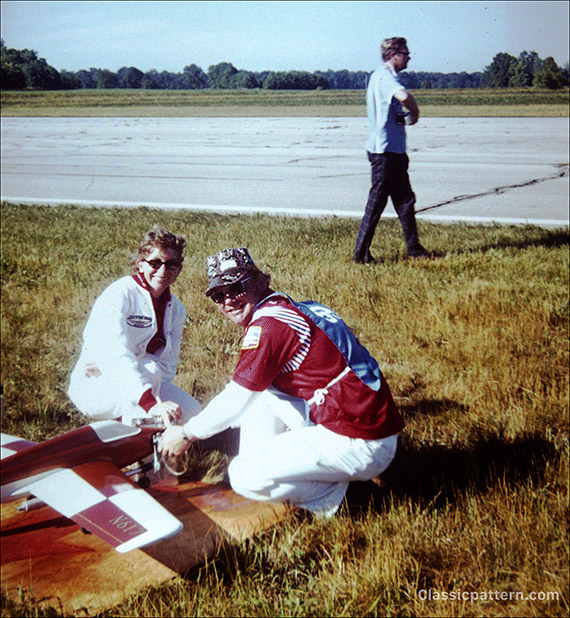 By the morning after the rain before (!), the mire around the huge marquee housing competitor's working area, trade display and dining area had become at least manageable. Now, as Round Three commenced, 'form' became far clearer and a large crowd gathered to watch both Prettner and Matt for the sheer entertainment value.
Prettner was superb again, but Matt, immediately after, experienced strong interference which ruined the second half of his Figure M manoeuvre and then proceeded to screw the aircraft all over the sky, so that Wolfgang quickly landed the model to await the waveband to clear.
Meanwhile it was the turn of Kjellgren from Sweden again, smooth and precise, before Matt returned again, this time easily handling a strong crosswind and a touch of interference induced rudder twitch during his slow roll.
The wind now was strong and bumpy, but Yoshioka achieved a remarkable performance in the rough air, although his spin entry was poor.
Least affected by the wind though was Dave Brown's high Speed Phoenix 6, the American performing in outstanding style in really blustery air conditions. Okomura of Japan, too, showed remarkable command of the wind, achieving a super crisp performance.
Torrential rain came again at the end of the lunchtime break, turning much of the airfield access and model pit area into a sea of mud. The two hour deluge was punctuated by a temporary respite sufficient only to fly three or four more competitors before the torrents sent judges, flight line workers and contestants scampering for shelter again.
Mike Bone and Team Manager Geoff Franklin, in action on the flight line, took the drenching this time, as they curtailed the flight.
With all hope of flying literally washed away for the day, the flight programme was rescheduled for an early start, 7 a.m. Saturday morning, so that first on Mike Bone, re-flying after his Friday afternoon drenching, really took full advantage of the still air conditions to find his true form.
By now, however, Wolfgang Matt and Hanno Prettner had complete command of the score board, Matt in pole position with a fairly comfortable lead over Prettner. Toshioka held third place but was not unassailable.
A good 4th round score could clinch it for him, but on his last flight, the motor cut during the Spin, costing him both Spin and Landing Approach points. Dave Brown from U.S.A. flying almost immediately after, rose like a champion to the opportunity with a flight which assured for him the 3rd place position in the final reckoning.
With three men in the top ten, the U.S.A. were team trophy winners, but only by a small margin over the three young men from Liechtenstein, Wolf and Norbert Matt (Norbert placed 7th) and Wieland Meir (30th), a situation which leaves one wondering how a state of a size only 62 sq. miles can produce such fine R/C pilots.
How did `we` fare? Keith Maundrel was top Briton, at 32nd place, ahead of Terry Cooper tied with Chris Sweatman of South Africa at 33rd, while Mike Bone was down at 39th place. Collectively, our team placed 1 1 th out of 26. Why so poor?
Well, it's easy to make excuses for your own team, but it really is fair to say that our boys were as psychologically ill-affected as anyone by the severity of the interference experienced on the 27 MHz waveband, which certainly put them off their stroke.
In Britain, there really is very little on the waveband that one could genuinely identify as interference, whereas the attitude of continental European fliers to the situation tends to suggest that it is a way of life they've learned to live with.
For instance, we watched one of the Yugoslav's models, take off, climb upwind and execute the most violent snap roll we've ever seen, everything just came on at once. Yet the pilot simply regained control, repositioned downwind and went straight into the Figure M as though nothing had happened!
What was it like overall? Well, the standard of flying among the leaders was very high indeed, although the weather precluded the height of perfection seen at Gorizia. Continental European R/C aerobatics seem to be on the up, with a better overall standard than we've seen hitherto, while herein Britain we're stagnating.
We could do better, and certainly those who flew for us this time have all done better, none of them reaching the standard seen at our team trials. More competition on the Continent is perhaps the answer, but cost of travel is of course a consideration.
Model design brought nothing drastically new. No single design was prominently favoured and the only designs used in any numbers at all were Norman Page's Mach 1, Yoshioka's 1973 winner, the Mk. Blue Angel, and Prettner's Super Sicroly.
Similarly, no individual brand of radio equipment held any commanding sway, although the American Pro-line (14) and the German Simprop (13) were the most popular.
Only in the power department was there any decided preference, more than half the fliers (39) choosing the Webra Speed 60, usually with the new Mini-Vox Super muffler, although a number were fitted with the Webra tuned pipe and a considerable number used in-flight mixture control.
After all the panic at the beginning of the year about the noise standards which the Swiss organizers threatened to apply for the meeting, no noise checks 'were carried out.
The hoped-for breakthrough in noise damping did not materialise, but many mufflers used were noticeably more effective than hitherto.
The new Mini-Vox Super with large expansion chamber is quite effective, the Japanese had some quite effective mufflers, and the Webra pipe seems quite a good one to use.
First prize for enterprise must go to Sim-prop. Fifteen minutes after the end of the competition, the words Weltmeister 1975 Simprop Alpha Contest Spezial were being nailed to the headboard on Simprop's trade stand.
Since no one can cut out individual letters that quick, it may be illustrating either excellent commercial presence of mind in pre-planning, or a manufacturer's sheer confidence in his equipment!
So yet another World R/C Championship came to an end. For the winner, Wolfgang Matt, success after several times coming so near on previous occasions.
For runner-up Hanno Prettner, disappointment again – and yet disappointment with its compensations, for there can be few figures on the international radio control scene more popular than this immensely likeable young man who has in the past overcome serious physical disability to achieve his present position.
For Dave Brown of U.S.A., a breakthrough on his very first appearance at a World R/C Championships, a situation of which world championship competitions are made. Long may it remain so.
World Championship technicalities
Some interesting technical details from the recent aerobatic R/C Champs at Bern, Switzerland
Any World Championship or large International contest holds two quite separate areas of interest. There's the obvious who-won, who-did-what aspect and then the analysis of the various technical approaches from various Nations to the problem of achieving the best model and the best performance.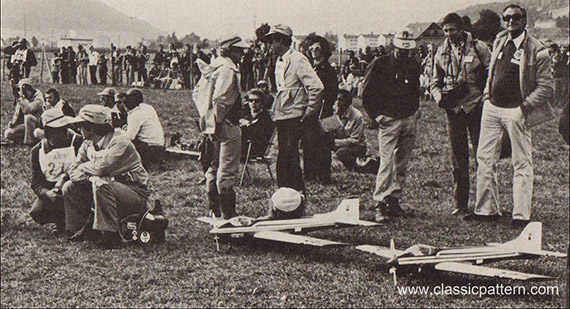 Let it be said that rarely will one find such a spread of technical ability and competence as at a World R/C Championship – some of the people competing really are nowhere near basic beginner level, let alone World Championship class and much of this is reflected in the choice of equipment combinations which go to make up their flying machine.
In last month's Championship report, we touched briefly on equipment used and model trends. Radio equipment preferences are perhaps the immediate question that springs to mind and although there were no overwhelming preferences, an interesting trend was that towards the use of rate switches coupled in to the transmitter aileron and elevator controls to produce two amounts of full servo through for full control column movement – the object being smoother, softer control response where appropriate.
Matt, Prettner and Brown in 1st, 2nd and 3rd places all used them and Brown also had a roll button which would programme in a set amount of aileron throw appropriate to a slow rat' for instance, leaving him free to concentrate on the rudder/ elevator control corrections through the manoeuvre.
Sixth place Mark Radcliff, like Brown using World Engines Expert Series radio also used this feature and all those using the new Kraft Signature Series gear ($800 if you can raise the mortgage or afford a divorce) had this feature plus the to confound the manufacturer's efforts and swap carburettors – on this and other motors, sometimes resulting in rather odd combinations.
Most popular glow plug was the Enya, in Nos. 3, 4 and 5 forms while there seems to be a swing to Glass fibre props. although one fascinating little twist was the Japanese use of hand carved props., beautifully fashioned in wonderfully light Cherry wood – about half the weight of a normal wood prop.
Positive pressure fuel pump systems are beginning to become popular after Yoshioka used the Yamada system to win at Gorizia, although strangely, it's not the Yamada unit we encountered this time.
Both Brown and Radcliff used the new O.S. 60 FSR coupled to a Perry fuel pump and large bore carb. to produce what to us certainly looked like the most powerful combination seen at Bern. Certainly their Phoenix 6 swept wing models were the fastest on the field, particularly Brown's.
We saw only one model on the field equipped with inset ailerons, but one interesting trend discovered was the growing popularity of the all-flying tailplane, quite a number were seen.
Retracting under-carriages were all but universal, most with direct mechanical servo drive, although the popularity of the pneumatic Rom-Air system shows perhaps that some are tired of adjusting linkages.
The big disappointment was the muffler situation. The threatened noise level tests (not carried out as it happened) failed to produce the hoped-for breakthrough, although some mufflers were quite effective.
The Big Hattori muffler used by Naruke from Japan for instance seemed quite effective, and then there were the Webra pipes used with some Webra Speed 60 motors. These, though not drastically damping noise, were quite quiet.
An additional complication here though is the use of mixture control which, although it may not be absolutely necessary, was certainly applied to all the Webra Speed 60s we saw at the Championships used in conjunction with the Webra tuned pipe.
| | | | | | |
| --- | --- | --- | --- | --- | --- |
| Name | Nation | Model | Radio | Motor | Retracts |
| 1. W. Matt | Liechtenstein | Atlas | Simprop Contest Spezial | Webra Speed 60 | Pro-Line |
| 2. H. Prettner | Austria | Curare | Simprop Contest Spezial | Webra Speed 60 | KDH |
| 3. D. Brown | U.S.A. | Phoenix 6 | World Engines Expert | 0.5.60 FSR | Goldberg |
| 4. T. Yoshioka | Japan | Blue Angel | Digi-Flight | Enya 60X | MK. |
| 5. T. Okumura | Japan | Patricia | O.S. Diamond 6GX | 0.S.60 FSR | MK. |
| 6. M. Radcliff | U.S.A. | Phoenix 6 | World Engines Expert | 0.S.60 FSR | Pro-Line |
| 7. I. Kristensen | Canada | Saturn | Pro-Line | Super Tigre 60 ABC | Rom-Air |
| 9. N.Matt | Liechtenstein | Atlas | Simprop Contest Spezial | Webra Speed 60 | Pro-Line |
| 9. R. Miller | U.S.A. | Compensator | Kraft Signature 7 | Webra | Pro-Line |
| 10. G. Hoppe | W. Germany | Sultan 5 | Signiature 7 Micro-Prop Professional | Webra Speed 60 | KDH |
| 11. B. Kjellgren | Sweden | Mach 1 | Kraft '74 | Webra Speed 60 | Goldberg |
| 12. I. Matsui | Japan | Cosai, Star Liner | Micro Sports 6 | Enya 60X | Rom-Air |
| 13. G. Bertolozzi | Italy | Kosmo 3 | Pro-Line | O.P.S.  Ursus 60 | Original |
| 14. H. Neckar | W. Germany | Mephisto | Graupner Varioprop 12S | OS.60 FSR | Graupner |
| 15. K. Matke | W. Germany | Olympia Flipper | Graupner Varioprop 12S | Webra Speed | KDH |
| 16. G. Werion | Belgium | Mixer-S | Kraft '72 | Rossi | M.K. |
| 17. B. Giezendanner | Switzerland | Scorpion | Pro-Line 7 | Webra Speed 60 | Giezendanner |
| 18. E. Giezendanner | Switzerland | Scorpion | Pro-Line 7 | Webra Speed 60 | Giezendanner |
| 19. G. Naruke | Japan | Nova | Futaba FP-6EN | 0.S.60 | MK. |
| 20. B. Bertolani | Italy | Kosmo 3 | Simprop | OPS Ursus 60 | Original |
| 21. G. Hardy | France | Olympia Flipper " | Contest Spezial Simprop | Webra Speed 60 | KDH mini |
| 22. R. Schumacher | Switzerland | Conder | "Simprop  Contest Spezial" | Webra Speed 60 | Rom-Air |
| 23. B. Lundstroem | Sweden | DFH 17 | Pro-Line | Webra Speed 60 | Goldberg |
| 24. F. Schaden | Austria | Condor 75 | Digi-Fli 7 | Webra Speed 60 | Original |
| 25. G. Reusch | Canada | Lightning B | Kraft '75 | Kraft 61 | Multicon |
| 26. K. Holm | Sweden | Slybird | Pro-Line 75 | Webra | KDH |
| 27. R. Pasqualini | Italy | Mark | Pro-Line | OPS | Rom-Air |
| 28. W. Hitchcox | Canada | Saturn | Orbit 5 | Super | Goldberg |
| 29. K. Weixelbaumer | Austria | Super Sicrolly | Simprop Contest Spezial | H.P.61 | Original |
| 30. W. Meier | Liechtenstein | Super Star 3 | Simprop Contest Spezial | Webra Speed 60 | Kolibri |
| 31. A. Laffitte | France | Alize II | Kraft KP7Z | Kraft 61 | KDH |
| 32. K. Maundrel | G. Britain | Jemini 5 | Kraft '74 | HP61 | KDH |
| 33. T. Cooper | G. Britain | Super Bulldog | Prestige 6 | OPS Ursus 60 | MK. |
| 34. C. Sweatman | South Africa | Lady Luck | Skyleader TSX5 | Ross 60 | Rom-Air |
| 35. C. Marincowitz | South Africa | Super Koas | Pro-Line 6 | O.S.60 FSR | Pro-Line |
| 36. J. Van Vliet | Holland | Boomerang | Simprop Contest Spezial | 0.S.60 FSR | Pro-Line |
| 37. 0. Chabert | France | Tempest | Simprop | Webra | M.K. (main) |
| 38. J. Tracy | Australia | Gemini | Kraft Signiature | O.S 60 FSR | Rom-Air |
| 39. M. Bone | G. Britain | Original | Skyleader TSX7 | Webra Speed 60 | Violett Aero |
| 40. E, Totland | Norway | Miss Norway 4 | Graupner Varioprop 12 | Webra Speed 60 | Rom-Air / Goldberg |
| 41. T. Paulsen | Norway S | Spitfire | Futaba 6 | Webra Speed | Homemade MK. |
| 42. B. Turner | New Zealand | Skymaster | Sankyo | 60 0S60 FSR | MK. |
| 43. B.Castenada | Mexico | Dirty Bird | Kraft Signature | Kraft 61 | Multicon |
| 44. P. Lagan | New Zeafand | Atlas | Sankyo | OS.60 FSR | MK. |
| 45. P. Stephansen | Norway | Maximum lt | Kraft '73 | HP61R | Rom-Air MK. |
| 46. J. Lysaght | Australia | Mach I | Futaba 6 | Webra Speed 60 | MK. |
| 47. J. Van Beek | Holland | Miss Painless | Polyprop | Webra Speed 60 | Goldberg |
| 48. S. Policar | Yugoslavia | Demon | Graupner Varioprop 12S | Webra Speed 60 | Goldberg |
| 49. I. Olivier | South Africa | Super Angel | Pro-Line 7 | Webra Speed 60 | Rom-Air |
| 50. Y. Van Gompel | Belgium | Mixer-S | Micro-Prop Professional | Webra Speed 60 | MK. |
| 51. H. Dekkers | Holland | Edgar | Simprop Contest Special | Webra Speed 60 | Fixed |
| 52. E. Toft | Denmark | Profile 3 | E.K. Logictrol 6 | Webra Speed 60 | Orient |
| 53, G. Smithson | New Zealand | Cutlass | Futaba 6 | O.S. 60 FSR | MK. |
| 54. B. Policar | Yugoslavia | Super Sicrolly | Graupner Varioprop 12S | Webra Speed 60 | Graupner |
| 55.N.Bertemes | Luxemburg | Super Sicroly | Multiplex Royal | Webra Speed | Rom-Air |
| 56.L.Castenada | Mexiko | Blue Angel | Kraft Signature | Kraft 61 | Multicon |
| 57. P. Behm | Luxemburg | Altas | Simprop Contest Spezial | 0.S.60 FSR | Rom-Air |
| 58. D. O'Hara | Ireland | Clipper 3 | Futaba | Webra Speed 60 | Rom-Air |
| 59. J. Rojo Ara | Spain | Voltor | Mutiplex Royal | H.P.61 | Fixed |
| 60. M.Somenzini | Argentina | Mach I | Futaba 6 | H.P.61 | Enya 4 |
| 61. R.Hurst | Australia | Gemini | Futaba 6 | 0.S.60 FSR | Fox L/R |
| 62. B.Hedegaard | Denmark | Mach I | MRC6 | OS.60 FSR | Rom-Air |
| 63. S.Feiner | Mexico | Titi | Pro-line | Webra Speed 60 | Pro-Line |
| 64. 0.Harder | Denmark | Fuji | Sankyo | H.P.61 | Enya 4 |
| 65. J. Beasley | Ireland | Tokyo Angel | Skyleader TSX7 | Webra Speed 60 | Goldberg |
| 66. J. Tonnar | Luxemburg | Super Star | Mutiplex Royal | Webra Speed 60 | Goldberg |
| 67. V. Amenduni | Argentina | Bell-Aire | Pro-Line 5 | 0.S.60 FSR | Rom-Air |
| 68. M. Morse | Yugoslavia | Champion | Multiplex Royal | Webra Speed 60 | Webra |
| 69. A. Goldberg | Israel | Sha hat | Kraft '71 | H.P.61 | Pro-Line |
| 70. N. Harowitz | Israel | Neshar | Pro-Line 7 | H.P.61 | Fox R/C |
| 71. D. Brushi | San Marino | Z16 | Futaba 6 | OPS 60 Ursus | Fixed |
| 72. A. Masetto | Argentina | Mach 1 | E.K. Champion | H.P.61 | Rom-Air |
| 73. H. Menary | Ireland | Manyana S | Futaba 6 | Webra Speed 60 | Fox |
| 74. G. Tereni | San Marino | Olnano | Pro-Line Challenger 5 | OPS 60 Ursus | Fixed |
| 75. R. Fombella | Spain | Super Kaos | Multiplex Royal | H.B.61 | Goldberg |
| 76. P. Constantinos | Greece | Snoopy | Futaba 6 | 0.S.60 Gold Head | Original |
Text: RCM&e 11/12-1975
Images: Sky Aviations, Erich Gilik, Bernt von Boetticher, Modell